Royalty Pharma
Royalty Pharma became a Foundation Partner of CATS in 2018. As foundation partners of CATS, Royalty Pharma enables CATS to connect world-leading academic and industry expertise to drive therapeutic development and support the education and training of the next generation of world-leading researchers in therapeutic sciences.  
Founded in 1996, Royalty Pharma is the largest buyer of biopharmaceutical royalties and a leading funder of innovation across the biopharmaceutical industry, collaborating with innovators from academic institutions, research hospitals and not-for-profits through small and mid-cap biotechnology companies to leading global pharmaceutical companies. Royalty Pharma has assembled a portfolio of royalties which entitles it to payments based directly on the top-line sales of many of the industry's leading therapies.
Royalty Pharma funds innovation in the biopharmaceutical industry both directly and indirectly – directly when it partners with companies to co-fund late-stage clinical trials and new product launches in exchange for future royalties, and indirectly when it acquires existing royalties from the original innovators. Royalty Pharma's current portfolio includes royalties on more than 35 commercial products, including AbbVie and Johnson & Johnson's Imbruvica, Johnson & Johnsons' Tremfya, Astellas' and Pfizer's Xtandi, Biogen's Tysabri, Johnson & Johnson's Tremfya, Gilead's Trodelvy, Merck's Januvia, Novartis' Promacta, Vertex's Kalydeco, Orkambi, Symdeko and Trikafta, and ten development-stage product candidates.
Accelerating Bio-Innovation Conference
The Accelerating Bio-Innovation conference has been organised by the Cambridge Academy of Therapeutic Sciences in partnership with Royalty Pharma. This invite- only conference brings together  global award-winning scientists, academics, entrepreneurs, investors, key opinion and thought leaders in therapeutic sciences. Accelerating Bio-innovation conference is a regular fixture in Cambridge calendar and is planned every other year in Cambridge. The inaugural conference took place in 2019 and the next event is planned in 2024 in Cambridge, UK.
Accelerating Bio-Innovation 2019
Accelerating Bio-innovation took place in the Wellcome Genome Campus on the 1-3 April 2019. The event was a two-day exploration of science and funding challenges in translational medical research and innovation. This interactive meeting included talks and panels examining current and future research in cancer detection and therapeutics, neurodegeneration and autoimmunity, as well as new and emerging models of translational funding and investment across all stages of research and development.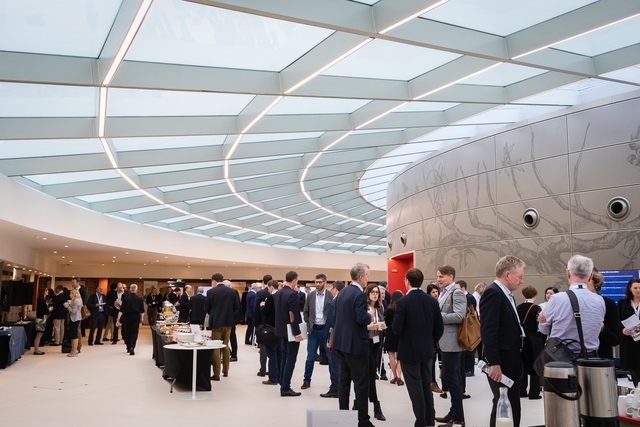 Accelerating Bio-Innovation 2022
Accelerating Bio-Innovation 2022 was held at the Wellcome Genome Campus on the 4-6 April 2022 and included events at the Fitzwilliam Museum and King's College, Cambridge. Building on the success of the inaugural 2019 Accelerating Bio-Innovation Conference, this event brought together a powerful mix of award-winning scientists, entrepreneurs, business leaders and experts to create a stimulating environment to explore new ways to accelerate bio-innovation for the benefit of human health.