The Cambridge Alliance on Medicines Safety (CAMS) 'Mitochondrial Biology & Toxicology Research Day' was held in Cambridge on 21st June and was co-organised by AstraZeneca, GSK and the MRC Toxicology unit along with CAMS. The goal of the day was to define and explore the big questions in mitochondrial biology and identify collaborative research opportunities in an informal workshop setting with Cambridge academics and industry safety scientists. 
The meeting was held under the auspices of Cambridge Alliances on Medicines Safety whose aim is to connect biomedical and clinical scientists at the University of Cambridge whose work touches on medicines safety/toxicology (both experimental and clinical). The overaching aim is to build an active academic community with strong collaborative links to pharmaceutical & human-safety related companies and share pre-competitive research on medicines safety.
Over 20 leading academics (Cambridge Uni, MRC Toxicology & Mitochondrial Biology Units) and pharma scientists participated in the workshop to develop open collaborative mitochondrial research ideas related to fundamental biology impacting on medicines safety. A poster session kicked off the scientific discussions, with groups from industry and academia having brought along two representative posters demonstrating their diverse activities in the field of mitochondrial biology and toxicity.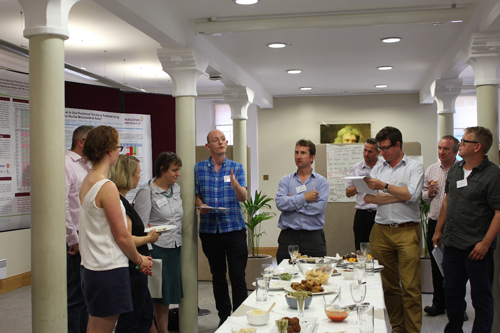 Following a brief introduction by Prof. Anne Willis (Director MRC Toxicology Unit), Judy Hirst (MRC Mitochondrial Biology Unit) presented on in-depth efforts to model aspects of complex I in vitro using a large number of both toxic and non-toxic compounds to inform the model. This was followed by a fascinating presentation by Dr. Miguel Martins (MRC Toxicology Unit) on dissecting signalling pathways involving fruit fly mutants. 
Jon Lyons (GSK) and Stefan Kavanagh (AZ) explained key challenges and strategic gaps regarding early detection of mitochondrial toxicity from an industry perspective. Biomarkers detected by metabolomics, data mining using artificial intelligence and in vitro modelling were recurring themes that overlapped with the poster session. Delegates then split into groups to discuss possible solutions to these challenges, with some groups identifying potential new collaboration opportunities.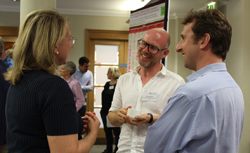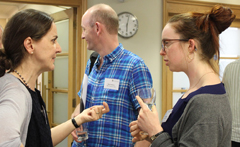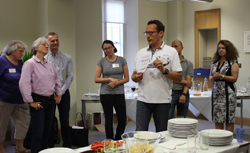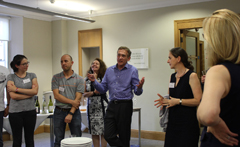 A common theme emerging from the event was a desire to exploit the Cambridge Biorepository for Translational Medicine that can be utilised for obtaining samples for mitochondrial disease pathway analysis and genetic research. In concluding, Stefan Platz from AstraZeneca said "Today has been about focusing on the science and today's workshop has really enabled detailed analysis of the big challenges in translating mitochondrial biology research into the design and development of safer medicines".